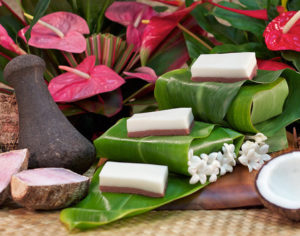 Haulolo is not a traditional Hawaiian dessert but is quickly gaining popularity among locals.
The dessert is Pomai Kulolo's original creation, and is a combination of haupia layered on top of kulolo.  Kulolo and haupia are frequently served side by side at Hawaiian events.
After eating the two one after the other, Keanue , Pomai Kulolo owner, naturally wanted to try them together.  And that's how we got haulolo.